---
A proud member of the USGBC
The U.S. Green Building Council (USGBC) is a non-profit organization committed to expanding sustainable building practices. USGBC is composed of more than 15,000 organizations from across the building industry that are working to advance structures that are environmentally responsible, profitable, and healthy places to live and work. Members includes building owners and end-users, real estate developers, facility managers, architects, designers, engineers, general contractors, subcontractors, product and building system manufacturers, government agencies, and nonprofits."
---
Blansfield Builders is also proud to announce that Jim Blansfield is now a LEED® A.P.

"LEED Professional Accreditation distinguishes building professionals with the knowledge and skills to successfully steward the LEED certification process. LEED Accredited Professionals (LEED APs) have demonstrated a thorough understanding of green building practices and principles and the LEED Rating System. More than 75,000 people have earned the credential since the Professional Accreditation program was launched in 2001."
---
Jim Blansfield is proud to announce is he a Certified Green Professional.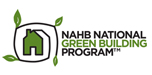 "The National Association of Home Builders™ Certified Green Professional™ designation recognizes builders, remodelers and other industry professionals who incorporate green building principles into homes without driving up the cost of construction. Classwork leading to the designation provides a solid background in green building methods, as well as the tools to reach consumers, from the organization leading the charge to provide market-driven green building solutions to the home building industry."
---
Blansfield Builders, Inc. - Builder for the Kennedy Green House.

"Environmental leaders Bobby and Mary Richardson Kennedy embark upon a LEED (Leadership in Energy and Environmental Design) certified renovation to transform their 1920's home into an extension of their personal environmental commitments. The Kennedy Green House focuses on maximum energy and water efficiency and improved indoor air quality to benefit the future of our planet and health of our children. The house will also showcase the latest in green technologies, sustainable building practices and healthy home initiatives to become the new model for green building and healthy homes nationwide."
---
Blansfield Builders Inc., is proud to announce that we are a LEAD-SAFE CERTIFIED FIRM

"New federal EPA rules effective 4/11/10 mandate that significant contracted painting and carpentry work on your home must be done by EPA Lead-Safe Certified Firms. Blansfield Builders, Inc. is a leader in compliance with new EPA mandated LEAD-SAFE work practices. We can test for lead and design and implement EPA LEAD-SAFE work procedures for your interior and exterior remodeling projects. All pre-1978 homes must comply with these EPA regulations."
View our Green certificate
---